About BullPerks

BullPerks is the world's first decentralized venture capital and multichain launchpad on the BNB Chain, achieving 9500% average ATH ROI after only 6 months.

BullPerks brings together like-minded individuals who want to invest together in the best crypto projects on equal terms with VCs.
Our platform has given a powerful boost to many ambitious gaming, NFT, and blockchain-based startups accelerating them to global popularity, such as Bloktopia, Polker, Monsta Infinite, StepHero, Sidus, Blockchain Monster Hunt, and many others.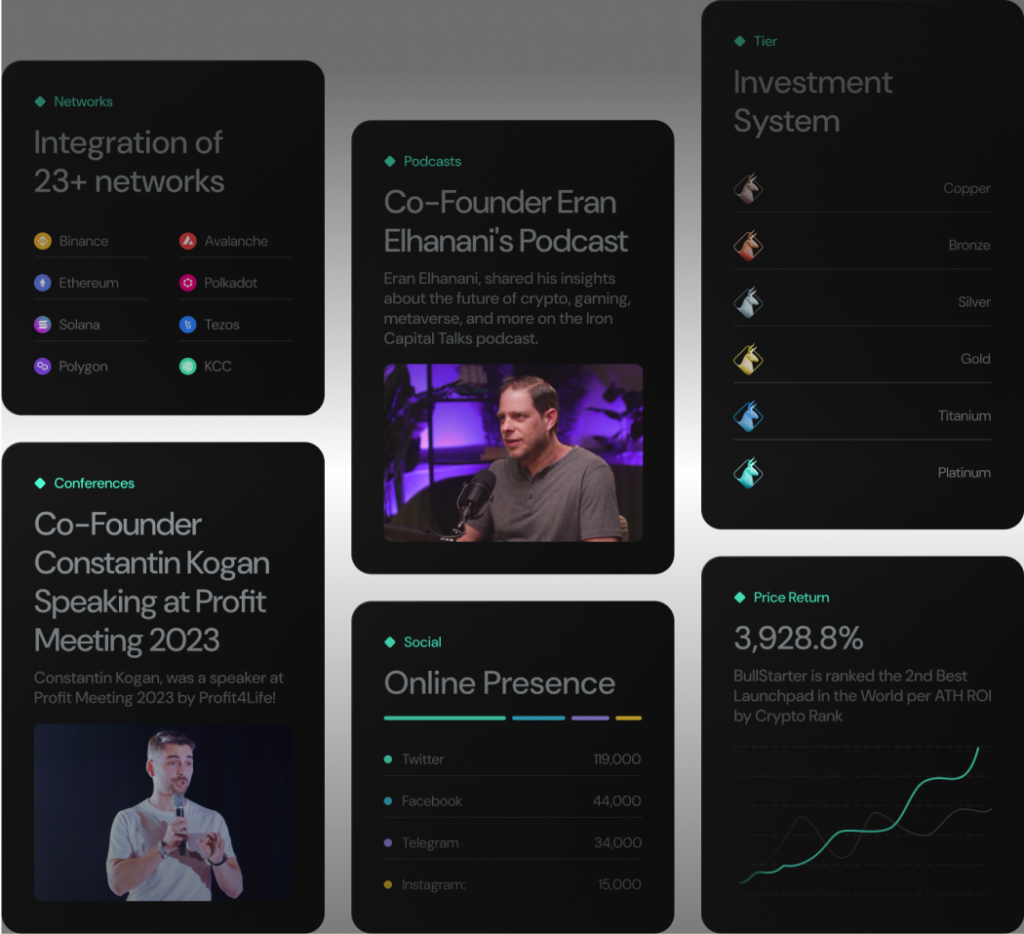 Mission
We aim to provide equal opportunities for retail buyers to invest in the most impactful crypto projects, generating significant returns for both BullPerks investors and partner projects.
Vision
BullPerks is quickly becoming a fully chain-agnostic platform, bringing the highest quality crypto investment opportunities of the next decade, to our dedicated community. We will be incorporating multiple chains, including but not limited to Ethereum, BNB Chain, Tezos, Solana, Polygon, and Cardano.

Team
Investors & Strategic Partners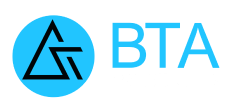 activity
Roadmap
Q1, 2023
General:
Partnerships and co-marketing
BLP Token addition to Web3 wallets (Nabox, OKX)
Allow users to send suggestions on BullPerks
BullStarter:
Network Integration (Polkadot, Tezos, Cosmos, Wanchain)
OKX Wallet Support
Add Equity Deals exclusive to Top Tier Members
BullClaimer:
Platform Optimization
Network Integration (KCC, Avalanche)
Add custom linear vesting logic
Q2, 2023
General:
Collaboration and Partnerships
Co-branded NFT Airdrops
Forming an advisory council for projects
BullStarter:
Network Integration (Skale, Near)
SpaceID ENS Service Integration
Add Change Wallet Function (With KYC Reset)
Fiat Onramp for BLP
Launching multiple IDO and equity deals
BullClaimer:
Network Integration (Elrond, Polkadot)
Optimization for Mobile
Q3, 2023
General:
Launch of Incubated Web3 Projects
Bridging BLP to Ethereum and Polygon
Incorporating additional analytical tools
BullStarter:
Network Integration (Harmony, Flow)
Translation of the Platform (Turkish, Spanish, Russian)
Add Notifications for new deals and changes on the platform
Platform Optimization
Q4, 2023
General:
Listing BLP on top exchanges
BullStarter:
Add locking and staking BLP in Ethereum and Polygon networks
Add option to buy BLP directly in the launchpad
Add other payment options for deals (USDC, USDT, BLP)
Incorporating analytics to improve deal targeting and flow for users
Team
Team of 50+ employees with experienced leadership
Eran Elhanani
Co-Founder
Co-Founder of BullPerks and GamesPad. Founder of Part One Capital, a crypto investment firm. Advisor on multiple crypto projects. Elhanani is a serial entrepreneur, seasoned angel investor, speaker and previous Venture Partner in a boutique VC, and holds a BSc in Medicine, Computer Science, and Math.
Constantin Kogan
Co-Founder
Co-Founder of BullPerks and GamesPad. Partner at BitBull Capital. Founder of Adwivo and former Managing Director at Wave Financial. Entrepreneur, meta-connector, influencer, blockchain technology enthusiast and digital asset investor. Top thought leader in hedge funds, IT startups, and venture capital. Ph.D. in Sociology and an M.Ed.
As a CMO equipped with a diverse background and promising skill-set with providing strategic advice to achieve marketing goals, Serhat spearheaded the marketing strategy for crypto exchange OKX as the Head of Marketing for MENA Region. With a strong foundation in the crypto ecosystem, he also provided valuable guidance to wide range of projects.
Hamza Javed
Head Of Customer Support
Bachelor in business administration graduate with over 5 years of experience in the crypto industry, he's an experienced, energetic, result driven and creative customer support professional with excellent leadership and communication skills, bringing top level IT support into the industry starting with BullPerks.
Kirill Bavykin
Compliance Officer/Money Laundering Reporting Officer (MLRO)
Track record in the banking industry. Affiliate member of the International Compliance Association. Skilled in regulatory compliance, AML, legal compliance, banking, legal assistance, litigation, and corporate finance.
Dima Doroshenko
Project Manager
Calculated and strategic decision-maker with 10 years of proven leadership, excellent communication skills, and a relentless drive to exceed expectations.
Eugene Kleiner
Operations Director
With 10 years of educational experience as well as international startup and first-hand entrepreneur experience, Eugene works closely with all the departments in BullPerks to further fuel growth in the company, while actively researching and helping implement useful new features for the community.
Vanessa Martinez-Bojanini
Business Development Manager in Latin America
Vanessa graduated from AIU University with a Bachelor of Science. She is an energetic, business-driven, trilingual entrepreneur, currently focused on creating business opportunities and alliances in Latin America for GamesPad.
Advisors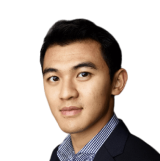 Yida Gao
Founder of Shima Capital
2020 Forbes 30 Under 30 & founder of $200 AUM hedge fund. Former M&A Investment Banker at Morgan Stanley,M.B.A., Stanford Business School. B.S. in Computer Science, MIT.
Dr Deeban Ratneswaran
CEO and Founder GD10 Ventures
An award-winning academic, serial entrepreneur and investor. Founder at GD10 Ventures. As an early-stage blockchain investor, & VC advisor, Deeban has developed impressive investment achievements with a 25x portfolio growth between 2019-2021.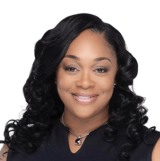 Sheynel Smith
Managing Director of
Driftwood Group
Track record in the banking industry. Affiliate member of the International Compliance Association. Skilled in regulatory compliance, AML, legal compliance, banking, legal assistance, litigation, and corporate finance.
Konstantin Solodkyy
CTO of VegaX Holdings.
Technical Adisor
With 21 years of software development expertise in Blockchain and Big Data, our technical advisor Konstantin excels in dynamic environments, managing a 10 billion dollar investment platform. He has worked with Fortune 500 companies, helping top brands, and boasting a wide range of specialties from AI to automated algo trading winning multiple fintech awards.
Ross Kolodyazhnyi
CTO of Wirex, Calyptus
Executive Leader with 13+ years of experience in FinTech, 7+ years of experience in Digital Assets, Blockchain, 8 major worldwide products in the portfolio with more than 10M users over the world and $1B+ of investments building innovative products, turning ideas into profitable SaaS, Protocols, Platforms, and Apps.
Josh Meier
Partner at Latitude Blockchain Services. Marketing Team & Strategic Advisor
Marketing Team & Strategic Advisor for multiple projects, including Splyt, StackOS, OMNI, Ally, EQIFI and others. Holds a Bachelor of Business Administration with a Major in Marketing and a Minor in Finance. Over 10 years of professional sales and marketing experience and 5 years of experience in blockchain technology.
Jason Fang
Founder and Managing Partner at Sora Ventures
Prior to Sora, Jason was the Head of Global Business Development at Juzix (now PlatON). Jason joined the blockchain industry in early 2016 as an Investment Associate at Fenbushi Capital, where he did deal flows and post management of North American companies.