How to Invest in Crypto Gaming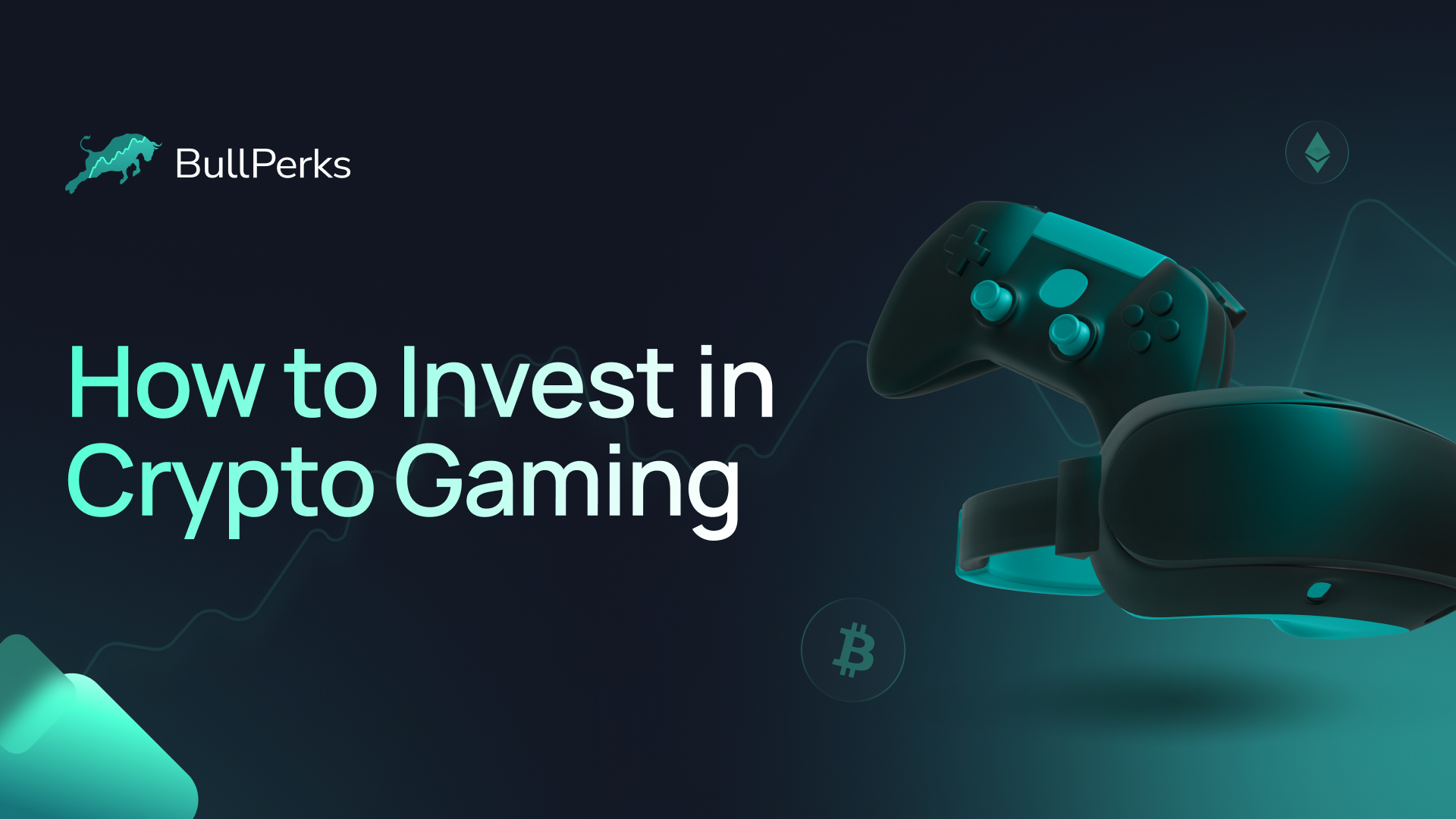 Blockchain technology is becoming increasingly incorporated into online games. Cryptocurrency games were responsible for the use of almost half of blockchain use in 2021, and this trend continues to increase.
Unlike traditional games where players don't own in-game assets (pay-to-play model), crypto games introduce such a concept as ownership of digital assets. This is why gaming coins and non-fungible tokens have become popular choices for those who want to invest in gaming.
Step 1: Choose Your Crypto Gaming Coins
There are many crypto gaming platforms and many coins available for investment. This is why it is crucial for crypto investors to choose those gaming tokens that can deliver a significant profit and are sustainable in the long term.
When you invest in crypto gaming, don't rely solely on the opinions of other people. Do your own research and choose those gaming crypto coins that not only align with your investment strategy but also have real-world value. Also, please keep in mind that investing in crypto is risky, thus, invest only those funds that you can afford to lose.
The top crypto gaming tokens in 2023 are the following.
Decentraland
Decentraland is a virtual reality platform that has its own in-game currency called MANA. In Decentraland, users can buy and earn in-game items and assets, construct, interact with each other, and perform many other activities that they can do in the real world.
Axie Infinity
Axie Infinity is one of the first successful play-to-earn games inspired by Nintendo's Pokemon series. In it, players collect and breed cartoon-like monsters to use them further in battles.
In-game items such as monsters or land plots in Axie Infinity are represented by non-fungible tokens. Each non-fungible token is linked to exclusive content on a blockchain and can be bought or sold, thus allowing gamers to earn on the price difference. It is also possible to invest in the governance Axie Infinity token called Axie Infinity Shards or in the Smooth Love Potion (SLP) token which is used to reward players in the game.
Axie Infinity has already delivered a profit for its early investors. After a surge, the game lost a significant number of its players in the first half of 2022, and the value of its tokens dropped.
The Sandbox
The Sandbox is an NFT gaming metaverse that allows crypto gamers to create and monetize their games, digital assets, and gaming experience. The entire metaverse consists of three products that enable a comprehensive gaming experience:
VoxEdit, an NFT creation package that allows users to create and animate objects such as cars, animals, human beings, etc.
A marketplace where users can publish, sell, and buy in-game assets created by them.
Game Maker allows anybody to create games for free. With user-friendly tools, even inexperienced users can create games successfully.
The most known game's native token is SAND which is a utility token. However, there are some more tokens that represent various aspects of the metaverse:
The ASSET token allows users to create new digital assets.
The LAND token represents a plot of land and is one of the gaming tokens that are most attractive to investors.
The GAME token is an indispensable attribute for gamers because it is needed to be active in the game.
The GEMS token boosts the value of assets in the game.
The CATALYST token defines the asset's tier and scarcity.
Most crypto games are not available on mobile devices, which is a prohibitive factor to many of those who don't have access to a computer. Sandbox is the first metaverse that has released several mobile game options for mobile devices – a fact that makes the metaverse accessible to most people.
Enjin Coin
Enjin Coin differs from the majority of crypto gaming coins because it isn't used by a specific blockchain gaming platform. The main use case of the Enjin blockchain is to enable crypto gamers to create, store, and destroy virtual items from other games.
The Enjin platform is used for gas-free transactions and is compatible with the majority of blockchain gaming platforms, thus combining various crypto counterparts into a single ecosystem. It means that over time, with the growth of crypto games' users, the demand for Enjin Coin will be increasing, too, and thus, this gaming coin may be a wise investment.
My Neighbor Alice
My Neighbor Alice is one of those blockchain-based games that deserve your special attention. Unlike other games that require gamers to know at least the basics of blockchain and NFTs, this game focuses on other players, those who aren't familiar with NFT and blockchain-based games.
In the game, users can create their virtual worlds and benefit from multiple monetization options. Also, they can connect with neighbors, socialize, participate in daily activities, and earn rewards.
To start playing, one needs to buy a plot of land and engage in various activities as they would do in the real world: planting, fishing, farming, or whatever else they prefer.
Earning money is possible by selling digital assets and non-fungible tokens on the game's marketplace. Also, investors can benefit from long-term asset appreciation.
Illuvium
If you want to invest in gaming coins, don't miss this game. This play-to-earn game has already made waves in the industry, and even now, investors keep it in sight because of its potential.
It is an open-world fantasy role-playing game with a variety of opportunities to collect, earn, win, and even trade virtual assets. This is why Illuvium is one of those gaming platforms that attract not only gamers but also traders.
Along with using their gaming crypto coins for playing games, users can also stake them and earn NFTs. Thanks to the application of zk-Rollups, the game is distinguished by a high scalability level. Among other distinctive features of this game are its decentralized governance structure and its Decentralized Autonomous Organization (DAO).
At the moment Illuvium is one of the most popular crypto games and one of the most lucrative investment options in the crypto gaming industry.
Yield Guild Games
Yield Guild Games is a decentralized platform that allows its users to invest in crypto gaming projects, and purchase gaming coins and other crypto gaming work pieces.
The platform also organizes periodic gaming events where they distribute gaming coins. Participants can also earn crypto by completing quests provided by YGG affiliates. All these details make the YGG, the token of the platform, surge.
Upcoming Crypto Gaming Projects
Being an early adopter of a crypto project means an immense earning potential, this is why it is recommended to pay attention to those crypto games that are still in development but are already gathering their supporters.
Among such crypto gaming projects, Otherside and ElseVerse deserve special attention.
Otherside
Otherside is an interoperable gamified metaverse that is being developed by Yuga Labs, a creator of the famous Bored Ape Yacht Club collection.
This metaverse will enable users to integrate their NFTs created by Yuga Labs and those from other NFT games to be integrated and used in the Otherside virtual world.
The metaverse will consist of five distinctive regions, each one with its own narrative and lore, where players will complete quests, play, harvest resources, and perform all other activities that one usually expects to enjoy in play to earn model games.
Selected users could experience Otherside in 2022, when 4,500 of them could join the metaverse in a demo session. A second similar experience was provided to some other users in the first quarter of 2023. Both demos were organized to build up the excitement before the Otherside launch.
If you are looking for an opportunity to invest in upcoming crypto games, picking Otherside may be a wise decision.
ElseVerse
EsleVerse is another metaverse that leverages blockchain technology to offer its players an immersive experience, along with multiple investment opportunities.
This is the metaverse of GamesPad, an incubation project of the BullPerks team, an advanced generative and AI-enhanced interconnected network of parallel universes where users can benefit from immersing in never-ending stories, generating different narratives, socializing, and doing whatever they want.
While the majority of metaverses are focused on providing earning opportunities while playing, other users, those who cannot afford expensive NFTs and tokens, are left without attention. ElseVerse is effectively solving this issue by allowing everybody to play and participate in gaming activities.
The metaverse is gathering its fans and has already organized free mints of valuable NFTs for early supporters. With the perspectives that the project has, it may be a wise decision to invest in its token as soon as it is possible.
Step 2: Open an Account on a Cryptocurrency Exchange
To start investing in popular crypto games, you need to open an account on a cryptocurrency exchange. Coinbase, Binance, and Kraken are among the most popular and reliable exchanges, and they support a vast majority of crypto coins.
Step 3: Fund Your Account
Once your account is registered and all KYC procedures are passed, you need to fund the account with fiat currency or cryptocurrency. Follow the instructions provided by your chosen exchange to deposit some fiat money or transfer some cryptocurrency to your account.
Step 4: Buy Your In-Game Currency
Finally, when your account is funded, you can start buying a selected game currency. Don't forget to pay attention to market trends and keep in mind that investing money in crypto is connected with significant risks. Set limits on your purchases to avoid over-investing in cryptocurrency games.
Step 5: Join a Crypto Gaming Guild to Access Top Crypto Games
Like in the case of traditional games, you can consider joining a crypto gaming guild to connect with other early investors and gamers. These organizations can provide valuable insights and opportunities for collaboration.
Investing in crypto gaming can be exciting and profitable, but it's important to do your research and invest wisely. With these pieces of advice, you can not only earn money on your investments but ensure your success in this industry that is worth billions.
Would you like to start investing in the most promising crypto projects? Learn how to invest with BullPerks, the fairest and most community-oriented decentralized VC and multichain launchpad!
Disclaimer. This material should not be construed as a basis for making investment decisions or as a recommendation to participate in investment transactions. Trading digital assets may involve significant risks and can result in the loss of invested capital. Therefore, you must ensure that you fully understand the risk involved, consider your level of experience, investment objectives, and seek independent financial advice if necessary.
More articles on this topic