The Best Metaverse Projects in 2023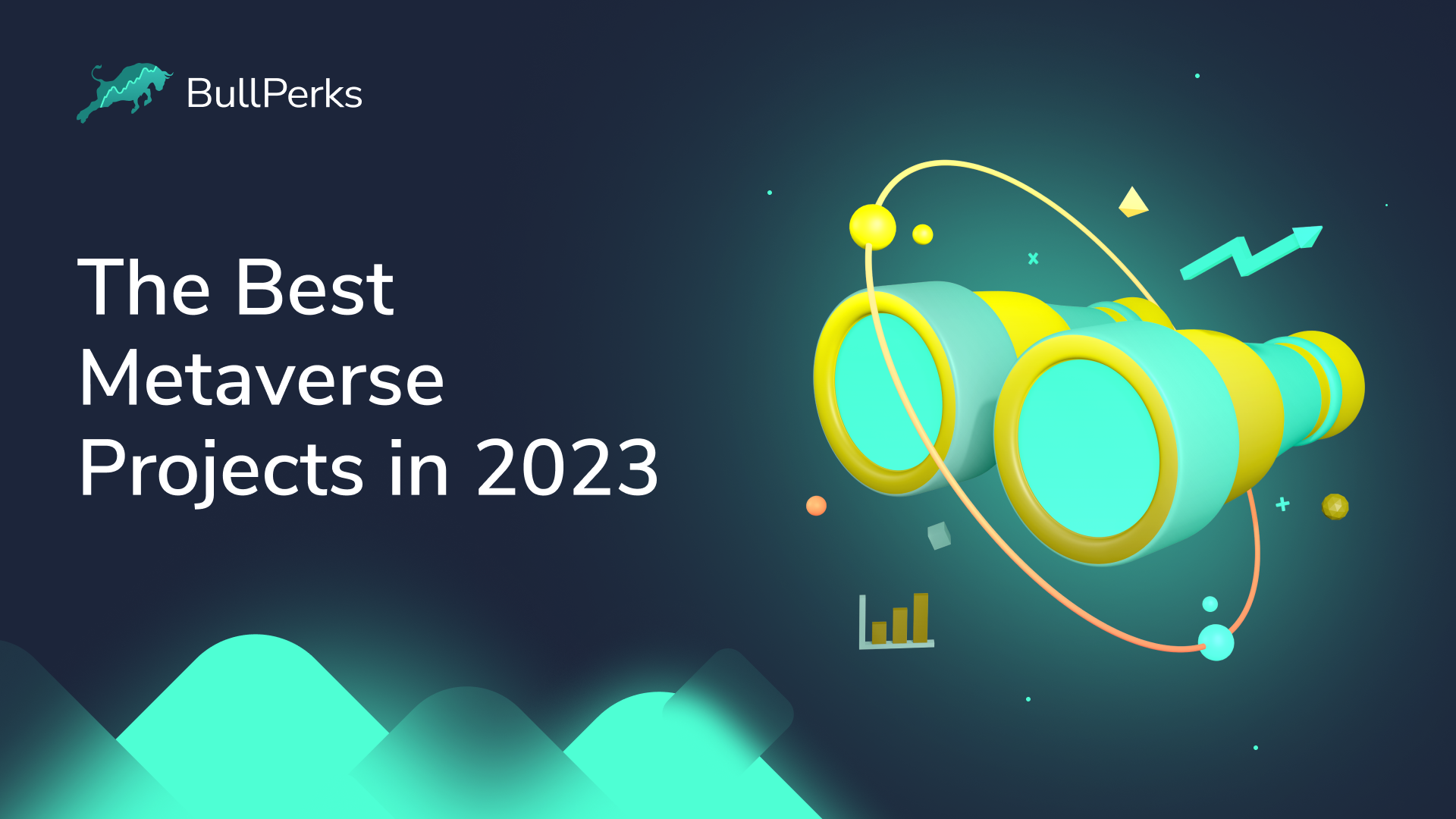 The Metaverse is a rapidly evolving space, with new projects and platforms emerging every day. As we have already moved into 2023, many exciting projects promise to revolutionize the virtual world as we know it. From virtual reality experiences to 3D gaming worlds and beyond, these projects are pushing the boundaries of what's possible in the metaverse.
In this article, we'll take a look at some of the best Metaverse-related projects and platforms available in 2023. We'll explore their features and capabilities, as well as how they can be used to create immersive experiences for users around the world. So let's dive in!
The Best Metaverse Crypto Projects to Invest in 2023
Looking for the best Metaverse crypto projects for 2023? Below we review the best of the best new and old favorite Metaverse projects that are making waves.
ElseVerse
ElseVerse is the Metaverse of GamesPad, an incubation of the BullPerks team – a crypto launchpad that reached 7355% of all-time high average returns on all deals in only 4 months after completing its private funding round.
Their exciting network of advisors brings together industry experts with over 20 years of combined tech experience. It's a mix of talented individuals at the top of their fields who are here to create a successful journey from startup ideation to execution.
Elseverse is layered around the buzzing central core: the stunning futuristic city of MetaPolis with its octopus-like arms spread out, embracing the rich lands around it.
Ever pulsating with energy, the city hosts sensational events and fierce competitions and, under its protective dome, welcomes all who yearn to be part of its wealth and prosperity.
RobotEra
RobotEra is an immersive Metaverse that allows users to own virtual real estate, create games and experiences, and play them without any coding skills. It's a platform where users can build their own personal worlds populated by robots and invite others to explore and experience them.
The platform also offers a range of tools and resources to help users create their own content, including a drag-and-drop editor, pre-made templates, and libraries of 3D assets. In RobotEra, users can craft their own unique experiences and share them with others, making it a truly collaborative and creative space.
The platform is supported by a dedicated team of developers and community managers who are constantly working to improve the user experience and build a vibrant community of robot enthusiasts.
Overall, RobotEra is an exciting addition to the Metaverse landscape, offering a new level of interactivity and fun for users looking to explore the possibilities of virtual worlds.
Fight Out
Fight Out is a gaming platform that's making waves in the Metaverse. The platform rewards users for competing and winning in a variety of contest modes, from team battles to one-on-one duels.
With its unique set of features and strategic gameplay, Fight Out has quickly become a favorite among gamers and Metaverse enthusiasts alike. The platform's decentralized design ensures that gameplay is fair and transparent, with all rewards distributed fairly among players.
Additionally, the platform offers a range of customizations and upgrades for users looking to take their gaming experience to the next level. With its engaging gameplay and innovative features, Fight Out is definitely a platform to watch in 2023 and beyond.
Calvaria
Calvaria is a new crypto platform that offers players an exciting card game experience called Calvaria: Duels of Eternity. The game invites players to build their own deck of cards and compete against other players in real-time battles. With a wide range of cards available and various strategies to employ, players can create unique gameplay experiences that keep them engaged and coming back for more.
The platform is supported by a dedicated team of developers and offers a range of customizable features and upgrades, making it an exciting addition to the Metaverse landscape.
With its focus on strategy and skill-based competition, Calvaria has the potential to become a favorite among both casual and competitive gamers in 2023 and beyond.
Battle Infinity
Battle Infinity is an innovative Metaverse platform that offers players a unique gaming experience. It features real-time battles, intense competition and rewarding gameplay that keeps users engaged for hours.
The platform also allows users to customize their gaming experience with upgrades and customizations available for purchase. With its focus on skill-based competition and strategic thinking, Battle Infinity provides an exciting way to explore the possibilities of virtual worlds in 2023.
Decentraland
Decentraland is one of the most popular and highly regarded Metaverse platforms available today. Launched in 2017, Decentraland is unique in that it offers users complete control and ownership over their virtual world experience.
One of the most exciting features of Decentraland is its decentralized blockchain-based architecture, which allows users to buy, sell, and trade virtual real estate using the platform's native cryptocurrency, MANA.
This decentralized approach is highly secure and ensures that users have complete control over their assets without the need for intermediaries or centralized authority.
Another standout feature of Decentraland is the creative freedom it offers users. Unlike some other platforms that offer pre-built experiences and environments, Decentraland allows users to create and customize their own experiences from scratch. Whether you're a seasoned developer or a novice just starting out, Decentraland's user-friendly tools and resources make it easy to create your own immersive virtual world.
In addition to its cutting-edge technology and creative freedom, Decentraland also boasts a vibrant community of users who are passionate about exploring and sharing their creations with others. From digital art galleries to multiplayer games and social events, there's always something exciting happening in Decentraland.
Overall, Decentraland is a powerful and exciting Metaverse platform that is sure to be a major player in the virtual world space for years to come. With its focus on decentralization, creative freedom, and strong community, it offers a unique and compelling experience for users looking to explore the possibilities of virtual worlds.
Sandbox
Sandbox is a popular Metaverse platform that has been gaining momentum in recent years. This virtual world allows users to build, share, and monetize their gaming experiences using a user-friendly and intuitive platform.
What sets Sandbox apart from other Metaverse platforms is its emphasis on creativity and community building. With its easy-to-use builder tool, users can design and customize their own games and experiences to share with others.
This feature appeals to both casual gamers and developers alike, as it promotes collaboration and innovation in a fun and engaging manner.
One of the key features of Sandbox is its use of non-fungible tokens (NFTs) as game assets. These tokens are unique digital assets that represent ownership of a specific asset or item within the Sandbox world.
The use of NFTs helps to protect user-created content and ensure that creators are fairly compensated for their work.
Another unique aspect of Sandbox is its focus on social interaction and the creation of virtual communities. Users can share their creations with others, collaborate on projects, and even attend virtual events and concerts. This type of social interaction promotes a sense of community and helps to build a loyal user base.
Overall, Sandbox is an innovative and exciting Metaverse platform that is revolutionizing the way we think about virtual worlds. With its focus on creativity, community building, and NFTs, Sandbox is definitely a platform to watch in 2023 and beyond.
The Future of Metaverse
The Metaverse is rapidly expanding and poised to be a transformative force in the future of virtual experiences. With the advent of new technologies such as virtual reality, augmented reality, and blockchain, the possibilities for what the Metaverse can offer are endless.
One of the most exciting aspects of the Metaverse's future is its potential to create entirely new economies within virtual worlds.
As blockchain technology becomes more prevalent within the Metaverse, users will have the ability to buy and sell virtual assets, creating new markets for digital goods and services. These markets will be completely decentralized, meaning that users will have ultimate control over their assets and transactions without the need for middlemen.
In addition to blockchain, the Metaverse's future will also see new advances in artificial intelligence and machine learning. This technology will allow for more immersive and interactive virtual experiences, with virtual characters and NPCs becoming more intelligent and responsive to user interactions.
The Metaverse will also continue to evolve in terms of social interaction. Virtual events and gatherings will become more commonplace, allowing users to connect with others from around the world in ways that were previously impossible.
This will lead to the creation of virtual communities that span across borders and cultures, creating a new era of global connectivity and collaboration.
As the Metaverse continues to grow, it will become increasingly important for users to have control over their data and privacy. This will be especially crucial as more sensitive data, such as biometric information, becomes integrated into virtual experiences.
The development of decentralized identity and data management solutions will be crucial to ensuring that users can maintain their privacy and security while engaging in virtual experiences.
With that in mind, we can say that the future of the Metaverse is bright, with endless possibilities for new economies, innovative technologies, and global collaboration.
As virtual experiences become more integrated into our daily lives, the Metaverse will play an increasingly important role in shaping the future of how we connect and interact with the world around us.
Bottomline
So what are the best Metaverse projects 2023? We hope you've learned more about virtual reality, Metaverse platforms, virtual land, virtual real estate, top Metaverse platforms, etc. The Metaverse is an exciting and ever-evolving world of virtual experiences, potentially revolutionizing how we interact with each other.
In 2023, there will be even more Metaverse platforms that offer unique features such as non-fungible tokens (NFTs), social interaction, blockchain technology, artificial intelligence (AI) integration, and decentralized identity solutions.
As the future unfolds in this new digital age, it's clear that the Metaverse will continue to play a pivotal role in shaping our global connectivity and collaboration.
With all these cutting-edge technologies at their disposal, users can look forward to more immersive and interactive virtual worlds than ever before.
Do you want to learn more about the best Metaverse platforms, augmented reality, and how to play games? Or do you have questions like which online multiplayer game is the best? Or a virtual reality platform? Or questions about the gaming industry, any virtual platform, Metaverse space, Metaverse world, any gaming Metaverse platform, or virtual environment? Then you should definitely continue reading our BullPerks blog!
There, you will find more about the immersive environment, modeling technology, virtual space, mobile devices, the virtual universe, the game universe, virtual versions, and the largest Metaverse platforms. Read on!
Would you like to start investing in the most promising crypto projects? Learn how to invest with BullPerks, the fairest and most community-oriented decentralized VC and multichain launchpad!
Disclaimer. This material should not be construed as a basis for making investment decisions or as a recommendation to participate in investment transactions. Trading digital assets may involve significant risks and can result in the loss of invested capital. Therefore, you must ensure that you fully understand the risk involved, consider your level of experience, investment objectives, and seek independent financial advice if necessary.
More articles on this topic