Recap: AMA Session With Paysenger's CEO & Founder Stan Novi
BullPerks hosted an AMA with Paysenger's CEO & Founder. During the discussion, he talked about the top features of the project and the plans for the future.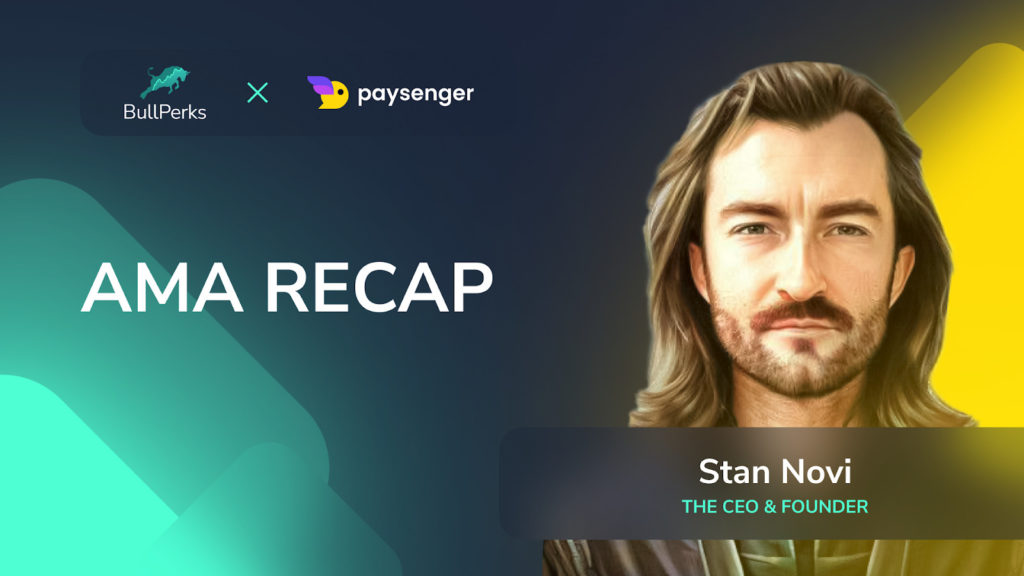 Paysenger is a Web2-to-Web3 platform for creators, experts & brands, utilizing Stanford Prof's AI, backed by Polygon & ConsenSys. The Initial DEX Offering (IDO) deal for Paysenger is scheduled to launch on June 1 on BullStarter. Recently, we had the pleasure of hosting an Ask Me Anything (AMA) session with Stan Novi, the CEO and Founder of Paysenger, during which he provided insights into the project and shared future plans. Continue reading this recap of the AMA to discover more!
BullPerks admin:
Hello, everyone! Welcome to the AMA session with Mr.Stanislav Novi from Paysenger. He is here to answer all your questions. Ready? Then let's get it started!
Stan Novi (Paysenger CEO & Founder):
Hi guys! Glad to be here! Ready to start!
BullPerks admin:
Perfect, and very welcome, Stan! I hope you're having a great day! Please remember to type "DONE" when you're done answering.
Stan Novi (Paysenger CEO & Founder):
OK!
BullPerks admin:
Great! So, the first question of this session: can you briefly describe your project to our BullPerks community?
Stan Novi (Paysenger CEO & Founder):
Sure! Paysenger is a collaboration platform for content creators 🙂 and their fans and brands, we are bringing together the best tools for content monetization and audience engagement. We help creators involve their audience and increase their earnings. At paysenger.com, we have apps (ios / android) and web version. Main features you can find: paid chats / memberships (monthly payments for creators) / NFT/ ai models for creators.
BullPerks admin:
What are the key features of the project?
Stan Novi (Paysenger CEO & Founder):
1) Paid membership feature allows creators to accept financial support by providing exclusive content that can only be accessed by paying members.
2) Content on demand – Create exclusive content on demand from your subscribers.
3) Daily tasks and rewards – Paysenger will engage creators' audience and increase income, they Invite subscribers to register using a unique link or promo code and we take their relationship to the next level by engaging followers to support creators.
4) Ego token – Could be accepted not only in dollars, but also in the EGO tokens, which fans can earn right on the platform by completing tasks! Now creator income is not limited by the welfare of the fanbase.
5) NFT rewards – Turn any of the posts into NFTs to participate in the distribution of EGO tokens. Creating popular content users get passive income all the time while the content stays at the top and get likes from community.
You can find detailed features on the website main page.
BullPerks admin:
Cool, so you're helping both consumers & as well creators.
Please tell us more about your backers and advisors.
Stan Novi (Paysenger CEO & Founder):
I will send here just the list of major backers and advisors.
1) Polygon.
2) Consensys (we are part of Consensys 2022-2023 accelerator among another top 20 startups, + Consensys help us receive grant from Amazon and Google $100k for servers and creators infrastructure)
3) Bullperks (incubation program)
4) World Blockchain Summit Dubai (co-host)
5) Crypto Expo Dubai ("Best Upcoming IDO" award, video in our website egoco.in)
6)XT Labs (Venture arm Xt.com )
7) BTS ventures
8 ) Partnership with sureel.io in development Ai for creators. One of the most talented Ai team from Stanford leading by dr. Tamay Aykut build Paysenger AI for creators.
9) Sinso data and tech infrastructure partnership.
10)Ime app that allows trading in telegram supports ego token.
11) GAINS associates (VC)
And just yesterday we signed an advisory and support agreement with Eljaboom.
BullPerks admin:
Perfect! The last and the most crucial question of this session is, please, tell us more about the short-term and long-term goals of Paysenger?
Stan Novi (Paysenger CEO & Founder):
Short term – we are launching Ai in June.
Paysenger is creating AI in collaboration with Dr. Tamay Aykut, formerly a professor at Stanford and now director of Sureel.io Paysenger AI will help creators monetize work made in their own unique style – with neural networks. Paysenger and the EGO token are currently being actively supported in development by Polygon, ConsenSys (creators of MetaMask), and many other industry leaders.
Features
A) AI-Generated Visual Art:
Artists upload their collection as a dataset, create a name for it, and set the price for AI-generated images.
Audiences or other creators can send requests for collaboration or add their own prompts or images.
The AI model generates an image based on the request, mints it as an NFT, and sends it to the requestor.
B ) AI-Generated Chat:
Artists upload text from their speeches, tweets, YouTube videos with subtitles, or Facebook profiles.
Audiences can ask questions about content, online courses, or product descriptions.
The AI model speaks for the creator and seeks clarification when uncertain, continually improving through feedback.
C) AI-Generated Photo:
Functions like AI-generated images but caters to different use cases, such as generating photos of models or influencers wearing brand items.
How it Works.
This personalized AI art model leverages blockchain technology and NFTs to protect generated content, ensuring that every piece is securely attributed to the creator.
Use Cases.
• Artists can create unique AI-generated art in their distinct style.
• Brands can generate customized promotional images featuring models or influencers.
Roadmap.
• Continued development and refinement of AI models for increased accuracy and versatility.
• Expansion into additional content types, such as audio and video generation.
• Partnership opportunities with art marketplaces, social platforms, and brands.
Longterm Vision.
Our goal is to empower creators and artists, enabling them to harness the potential of AI while preserving their creative integrity. By combining personalized AI models, blockchain technology, and NFTs, we strive to revolutionize the art world and foster new opportunities for artists and brands alike.
Next as Q3-Q4 we are integrating more EGO utility, will show example in picture.
Stan Novi, [05/31/2023 10:34 PM]
Half of them already integrated and you can check by dowloading app or use web version paysenger.com
Next quarter we will integrate rest and will improve AI models. This is a high scale roadmap (past and current stage).
And this is how social marketplace work and both parties (creator and requestor) got royalties and rewards.
But it's easier than reading and watching – just try. A lot of creators already try.
500k+ Users
▶ 220k+ downloads from Google Play
⭐ 40k+ creators
🎙 More then 300 influencers (1m+ Reach) 👨
💻 Up to 10k DAU / 1,4 million unique visits in May.
Google Play – https://play.google.com/store/apps/details?id=com.paysenger.androidapp&hl=en&gl=US
Apple Store – https://apps.apple.com/us/app/paysenger/id1460484935
BullPerks admin:
Remarkable achievement! It's truly impressive to see the impact you've made in such a short period of time. Now we will move onto the next section. Let us now open the channel for our community's questions.
Stan Novi (Paysenger CEO & Founder):
Let's do it.
BullPerks admin:
Chat is now unmuted.
Amit:
Any info on CEX listing?
Stan Novi (Paysenger CEO & Founder):
We will announce soon, Already have 3 top-10 CEXs, but are negotiating listing dates and terms.
Dmitro:
In the case of AI-Generated Photo, what are some specific use cases, and how does it cater to different needs compared to AI-generated images?
Stan Novi (Paysenger CEO & Founder):
So if the model or influencer – brand can generate photos with creator/model participation without need to organize a photo session, it will generate photos with persona and brand accessories.
Shyaan:
How is Paysenger utilizing blockchain technology and NFTs to safeguard the generated content and guarantee accurate recognition of the creator?
Stan Novi (Paysenger CEO & Founder):
If a model uses some data (content / portfolio etc) from creators – they get royalties in NFT that will be generated, the model recognizes how many % of each creator's style/data was used.
Kwon:
What makes Paysenger uniquely different?
Stan Novi (Paysenger CEO & Founder):
1. Our seasoned founding team boasts a wealth of entrepreneurial experience, having built businesses valued at over $1 billion in the past.
2. Pioneering the web3 space by attracting premier global creators, we deliver content that resonates with billions of fans worldwide.
3. Demonstrating scalable and market-proven growth metrics: over 500,000 users, 40,000+ creators, and a daily active user exceeding 10,000.
Hakimi:
What are the benefits of holding $ego token as a long term investment? Can you tell us about the motivation and benefits for investors to keep the $ego token in the long run?
Stan Novi (Paysenger CEO & Founder):
I have a ready answer for that sorry.
Now, let's dive into the top reasons why you should definitely have EGO token in your portfolio in 2023:
1. Mainnet transition and token demand: Paysenger's currently using a test token called tEGO, but they've announced they're making the upcoming transition to the mainnet. That's gonna shoot up the demand for the EGO token, no doubt.
2. Expansion plans: Paysenger's planning to kick off a massive campaign with new business partners in Europe and the USA in August 2023. They'll get thousands of influencers onboard to spread the word about the product and the EGO token to their followers.
3. Support from prominent cryptocurrency players: Paysenger's getting active support from big-shot crypto institutions like Polygon and ConsenSys.
4. Building their own AI: Paysenger's team is teaming up with Dr. Tamay Aykut, a former Stanford professor, to develop their very own artificial intelligence.
Paysenger AI will help creators monetize work made in their own unique style – with neural networks.
5. Influential founders: One of the Paysenger founders is the owner of Unlimint Group, a billion-dollar business and an official partner of Visa and Mastercard.
6. NFTs get a new lease on life: Paysenger presents a fresh perspective on NFT technology, highly praised by experts and NFT artists for its immense potential.
The platform rewards EGO tokens to the most popular NFTs weekly, effectively turning the purchase and ownership of NFTs into a form of staking.
7. Massive user base: With over 500,000 users and more than 50,000 creators, Paysenger demonstrates active community adoption.
Also important to say, that we have a deflationary model so to unlock levels on Paysenger and use features you need to burn tokens, so the amount of them will decrease quite a lot with time, the value of each token will increase in platform.
Mr.Perfect:
Can you provide any insights into the long-term roadmap and vision for Paysenger beyond the integration of EGO utility and AI model improvements?
Stan Novi (Paysenger CEO & Founder):
Creators can use Paysenger Ai only with Ego token, there will be no way to skip it. Every image generation costs some EGO tokens, and if you decide to mint you need to use an Ego token, if you are the creator you need to hold an Ego token to be able to access AI features.
BullPerks admin:
If you have anything to add, please mention it as we now conclude.
Stan Novi (Paysenger CEO & Founder):
1. Try the app or website paysenger.com
2. Join IDO tomorrow 1st-2nd june with Bullperks
3. Follow our channels pls to be aware when listing and updates will come out
Website: https://egoco.in
Telegram: https://t.me/egocoin_en
Twitter: http://twitter.com/ego_paysenger
BullPerks admin:
Great AMA, Stan , and thank you! It was amazing to have you here today! Thank you everyone for joining us today and we sure had a blast.
More articles on this topic