Comparing IDO and ICO: Unveiling the Key Differences
07 Mar, 2022
When starting to learn more about crypto investments, a novice investor may come across the concepts of ICO, IEO, IDO IFO… And the list goes on. In fact, those are all modalities of token offerings, but, especially between the IDO and ICO, that's where the similarities end.
A token offering is a method of fundraising in which a project sells a new crypto coin at an early stage offering, and an investor who purchases a token at the launch may gain high profits from it. Some investors buy coins for their utility, including farming, staking, and paying transaction fees; why others may do it just for speculation.
However, with so many different token offering dynamics available, is one better than the other? Let's learn more about ICO and IDO offerings, their particular benefits, differences, and how to choose between them.
Comparison: ICO vs. IDO
Feature/Aspect
ICO (Initial Coin Offering)
IDO (Initial DEX Offering)
Definition
A method of fundraising where a project sells a new crypto coin at an early stage.
A token offering modality that lists tokens directly on a decentralized exchange.
Benefits

Tokenomics are for all: Democratic and anonymous sales.
Geographic flexibility: Global sales and purchases.
Frictionless deal launch: No need for a specific location.
No intermediaries: Direct sales on the market.

Openness and fairness: Accessible to many.
Transparency: Transparent vetting and voting process.
Security: Enhanced measures against scams.
Lower costs and faster profits: Reduced listing costs and instant liquidity.

Responsibility
Project founders are responsible for fundraising, listing the token, and managing smart contracts.
Deal issuers handle most tasks, but DEXs offer support throughout the process.
Intermediaries
None.
None.
Costs
Can be high, especially for minting tokens after the sale and listing them on top centralized exchanges.
Lower costs as DEXs list tokens immediately.
Security Concerns
History of security glitches and scams.
Enhanced security measures, including KYC and AML checks.
Community Involvement
Relies on community activists to vet offers.
Relies on community activists and has highly engaged communities.
Benefits of ICO
Starting with the most known form of token offering, an Initial Coin Offering sells a part of a project's total crypto token pool to the investors, recreating the traditional Initial Public Offering method on a blockchain and using cryptocurrency technology.
However, instead of buying a company's stakes, an investor buys a token or cryptocurrency, expecting to gain value over time.
To launch an ICO, the project's founders become responsible for the fundraising. To complete it successfully, they have to list the token and manage the smart contracts while also reaching out to potential investors. It is a very do-it-yourself kind of token offering.
Unlike its venture capital predecessor IPO, it is much easier for entrepreneurs to launch ICO deals as fewer bureaucratic barriers exist in this crowdfunding model. Some of its significant benefits are:
1. Tokenomics are for all
Token economy or tokenomics are very democratic. While IPOs come with extensive regulations and are available only to high-net-worth investors, anyone can buy ICO tokens, and such sales are always anonymous.
2. Geographic flexibility
ICOs are more flexible and profitable investment deals, as crypto coins can be sold and purchased globally. On the one hand, it is easier for investors to sell their coins whenever they judge beneficial; on the other hand, startups are not limited to geographic restrictions anymore and can pitch their projects to a broader range of investors.
3. Frictionless deal launch
Entrepreneurs don't need to be at a specific place at a particular time to be eligible for financing and to transform a project into a successful business. As a matter of fact, Ethereum is one of the most successful ICOs and has no physical existence anywhere.
4. No intermediaries
In ICOs, there are also no intermediaries between the buyers and sellers. When a token launches, it can be immediately be sold on the market in a fast and efficient instant buy-in dynamic.
Benefits of IDO
A novice token offering modality, an Initial DEX Offering lists the tokens directly on a decentralized exchange. Far from Initial Exchange Offerings, sometimes described as IDO's predecessors, IDOs have a peer-to-peer approach and don't charge direct feeds to intermediaries.
Much like ICOs, in IDOs, the deal issuers are responsible for all the hard work. Still, the DEXs offer support throughout the process, from listing the token sale to advertising the project and building an engaged community.
When launching an IDO through a launchpad, the Know Your Customer and Anti Money Laundering procedures are usually executed as of standard.
With the emerging decentralized finance, IDOs arose as a safer and faster approach to start and fund a cryptos-based project. Using DeFi features, the investing process becomes fairer and more transparent, raising overall security for investors and entrepreneurs. Check out some of its main benefits:
1. Openness and fairness.
Following the ICO legacy, anyone can buy tokens to participate in IDOs. However, the amount of staking necessary to join tiers in a deal is even lower than ICOs, having less risk of being dominated by private investors from the very beginning of a project.
2. Transparency.
Token offerings have a much more transparent vetting and voting process when compared to traditional venture capital investment. IDOs take a step further with DeFi as the steps to choose a promising initiative and launch a deal are not centralized in only one institution or group of people anymore. Anyone can access the process data, and there is no more secrecy.
3. Security for investors and startups.
As ICOs have presented several security breaches and allowed millionaire scams to happen, IDOs came extra prepared with security measures. Besides the security that comes from DeFi transparency, IDO launchpads will require KYC and AML checks from issuers to ensure that all the enlisted projects are legitimate.
4. Lower costs and faster profits.
In some token offerings, the costs to list a token can go up to thousands of dollars. When launching an IDO, the issuers only have to pay small gs fees to complete transactions on the exchange. IDOs also offer instant liquidity and trading, contributing to the projects' success and market activity.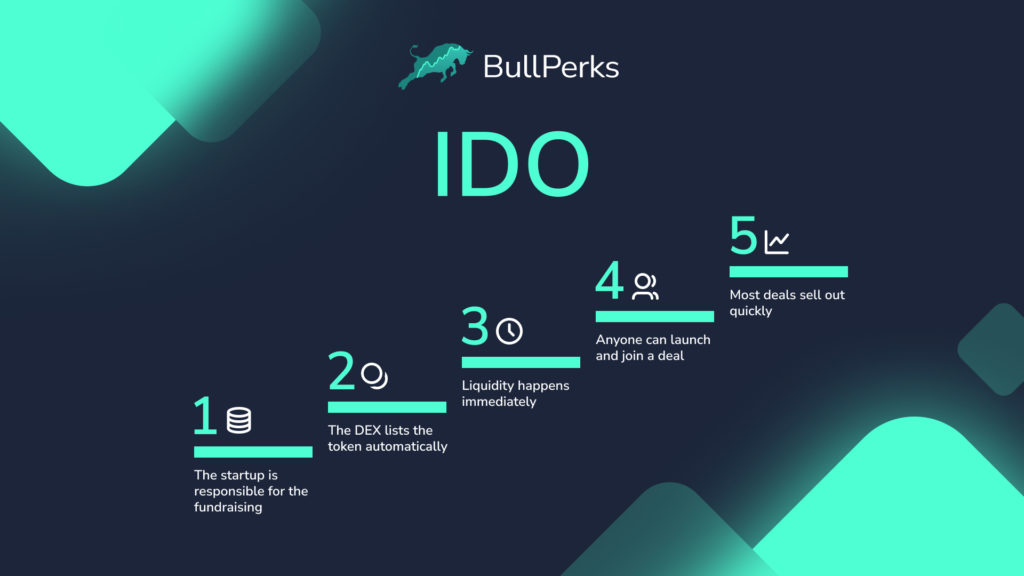 Is IDO better than ICO?
When comparing ICO and IDO, the similarities are clear:
There are no intermediaries.
The entrepreneur is mainly responsible for marketing their project and catching the attention of investors.
Both rely on community activists to vet the offers.
An issuer might expend thousands or millions of dollars with ICOs, to mint the tokens after the sale and list them on top centralized exchanges to attract more buyers.
With an IDO, the costs are lower as the DEX lists the tokens immediately, but such platforms are more difficult to use and tend to keep some investors away.
While IDOs and DeFi are novice concepts and still are undergoing changes and foreseeing regulation, ICOs have a not-so-positive history of security glitches and scams, making some investors lose a significant amount of money back when this offering first started in 2013.
There is no simple truth about whether IDO is better than ICO or not. Different token offerings have emerged as financial technology has evolved over the years.
Each offering model came to serve a purpose or meet a particular audience's demands; the matter is if the investor will make a wise choice based on their background and goals.
How to choose between ICO and IDO
The million-dollar question is: How to choose wisely between an ICO or an IDO? There is no wrong answer.
ICOs often raise more money than IDOs, like Telegram's $1.7 billion ICO. Although anyone can take part in it, it certainly would be attractive to the senior investing audience that maybe is already comfortable with IPOs and would like to venture into the crypto universe through a relatable process.
Contrastingly, IDO disrupts the traditional investment model and make it much more accessible to many other investing audiences. IDO launchpads are listing several new deals daily, and most projects sell out very quickly.
A novice investor, for example, could benefit from IDOs' highly engaged communities.
BullPerks continuously meets the demands of ICO and IDO investors. Through the BullStarter platform, a potential investor can scan the available deals on both token offering modalities and invest in the most promising ones.
BullPerks is a decentralized VC and multichain launchpad that genuinely practices transparency by giving its community reliable information about all deals. You can choose to invest in an ICO deal or an IDO; on both offerings, the team of experts will perform rigorous research of all crypto initiatives to ensure the highest ROI and minimize investment risks.
Would you like to start investing in the most promising crypto projects? Learn how to invest with BullPerks, the fairest and most community-oriented decentralized VC and multichain launchpad!
More articles on this topic